"A transcendent cinematic experience"
RogerEbert.com
"Undeniably exhilarating"
Indiewire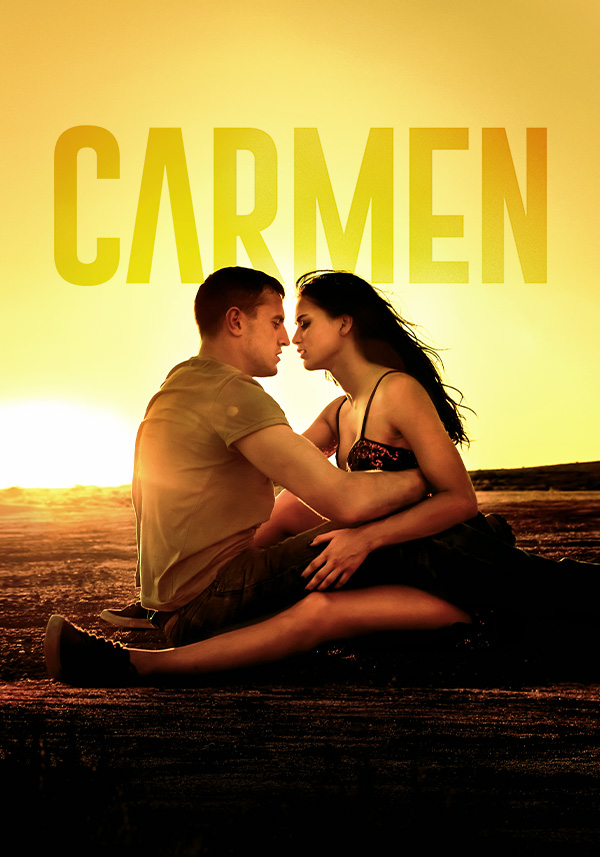 A one-of-a-kind cinematic vision.
Starring Melissa Barrera & Paul Mescal, Benjamin Millepied's Carmen is a gritty modern day tale, with a majestic score by Nicholas Britell, and dream-like dance sequences that evoke magic realism. The story follows a young and fiercely independent woman who is forced to flee her home in the Mexican desert following the brutal murder of her mother, another strong and mysterious woman. Carmen survives a terrifying and dangerous illegal border crossing into the US, only to be confronted by a lawless volunteer border guard who cold-bloodedly murders two other immigrants in her group. When the border guard and his patrol partner, Aidan—a Marine with PTSD—become embroiled in a deadly standoff, Carmen and Aidan are forced to escape together. They make their way north toward Los Angeles in search of Carmen's mother's best friend, the mercurial Masilda and owner of La Sombra nightclub - a sanctuary of music and dance. Carmen and Aidan find both solace and their unwavering love for each other in the safety of Masilda's magical refuge, but time is running out as the police hunt closes in.
Violence, coarse language, a sex scene and brief nudity | Runtime: 117mins
Other Films You Might Like

Join our mailing list to keep up to date with the latest films from Madman.
© 1996-2023 Madman Entertainment Pty. Ltd. All rights reserved. Level 2, 289 Wellington Parade South, East Melbourne, Victoria, Australia 3002. Ph. (61-3) 9261 9200.
Madman acknowledges the Traditional Owners, the Wurundjeri and Boon Wurrung people of the Kulin Nation, on whose land we meet, share and work. We pay our respects to Elders past and present and extend our respect to Aboriginal and Torres Strait Islander peoples from all nations of this land. Aboriginal and Torres Strait Islander people should be aware that this website may contain images or names of people who have since passed away.
Want more Madman?
Subscribe today and keep up to date with all the latest news from Madman Entertainment.