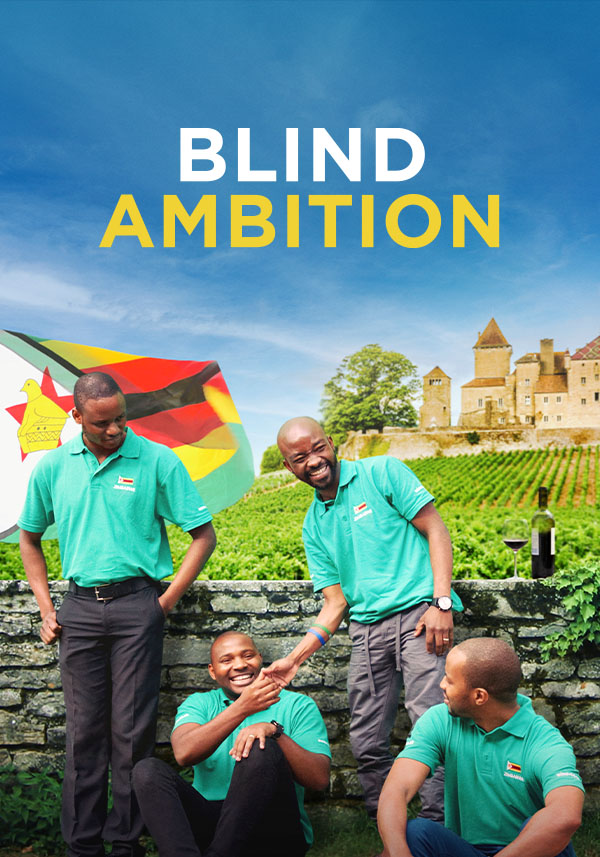 Four unlikely sommeliers against the world
Winner of the Audience Award at Tribeca Film Festival and Sydney Film Festival, BLIND AMBITION is the inspiring story of  four Zimbabwean refugees who conquered the odds to become South Africa's top sommeliers. Driven by relentless optimism, a passion for their craft and unshakeable national pride, they form Zimbabwe's first ever wine tasting team and set their sights on the coveted title of 'World Wine Tasting Champions'. From the moment they arrive in France to compete, this team of mavericks turns an establishment of privilege and tradition on its head. A truly uplifting documentary that celebrates just how irrepressible the human spirit can be.
Occasional coarse language | Runtime: 94mins
Other Films You Might Like
Join our mailing list to keep up to date with the latest films from Madman.
© 1996-2023 Madman Entertainment Pty. Ltd. All rights reserved. Level 2, 289 Wellington Parade South, East Melbourne, Victoria, Australia 3002. Ph. (61-3) 9261 9200.
Madman acknowledges the Traditional Owners, the Wurundjeri and Boon Wurrung people of the Kulin Nation, on whose land we meet, share and work. We pay our respects to Elders past and present and extend our respect to Aboriginal and Torres Strait Islander peoples from all nations of this land. Aboriginal and Torres Strait Islander people should be aware that this website may contain images or names of people who have since passed away.
Want more Madman?
Subscribe today and keep up to date with all the latest news from Madman Entertainment.